(WAki International Media Center 17th November) The 100th days Memorial Service of the Late Most Respected King of Relic Aggha Mahasaddhamajotikadaja Sayadaw U Kittivara, speeched by Sayadaw U Sandavara, the speaker of Parami Temple .
Today is the 100 days passing away of the late most repescted Venerable Sayadaw U Kittivara. Although the material phenomenon and a group of aggregate had decayed, the virtues of the late Sayadaw still remain with us. I would like to share with you the story of the late Sayadaw.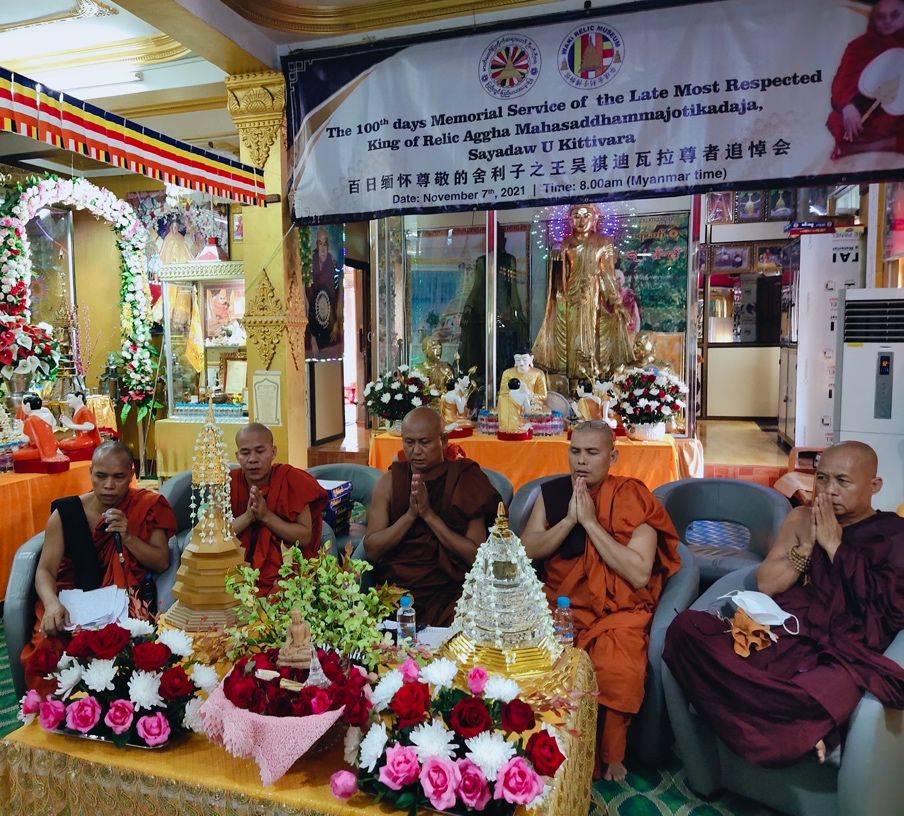 The late Venerable Sayadaw U Kittivara was born on Monday,the 14th of Thidingyut in 1309 Myanmar Era at Pauk Pin Thar Village, Mitthila Township, Mandalay region. His father U Nyan and mother Daw Hla Khin gave his name as Maung Khin Aung. At the age of four, his mother passed away and his father sent him to study under Venerable Mendaka at the Thayettaw Monastery in the village.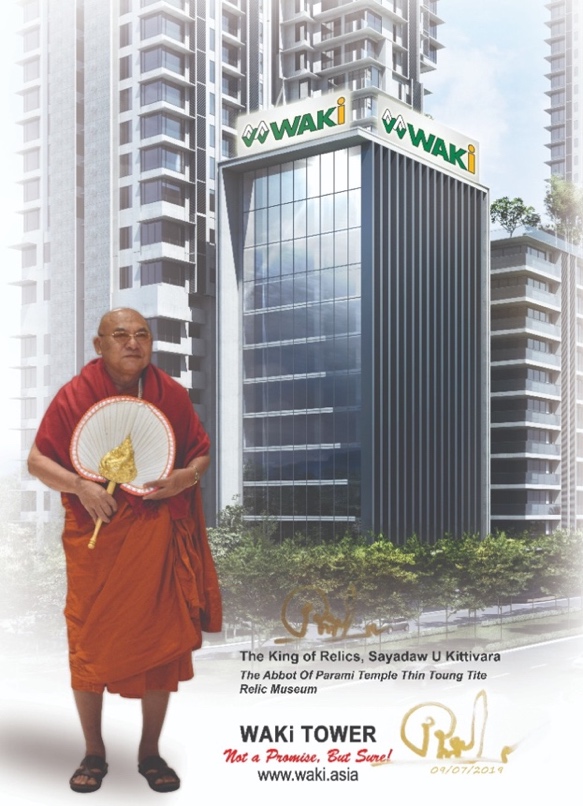 When he was eight years old, his father took him to meet Venerable Suriya, the Abbott of Wuntawpyae monastery in Mitthila township. His father ordained as a monk then, and they stayed together at the monastery. He became a novice when he was ten years old under Venerable Sayadaw Suriya, who was his uncle. He was named as Shin Kittivara. When he was twenty years old, he was ordained as a Buddhist monk under the preceptor Ven. Jagara- the abbot of Koethaungpyae monastery Thetaw Township- at the Sima hall of Wundawpyae monastery sponsored by U Phoe Ngwe and Daw Jun and their daughter, Daw Mya Nyunt on Saturaday 9th of Taboetwe in 1328 M.E. (8th February, 1967 )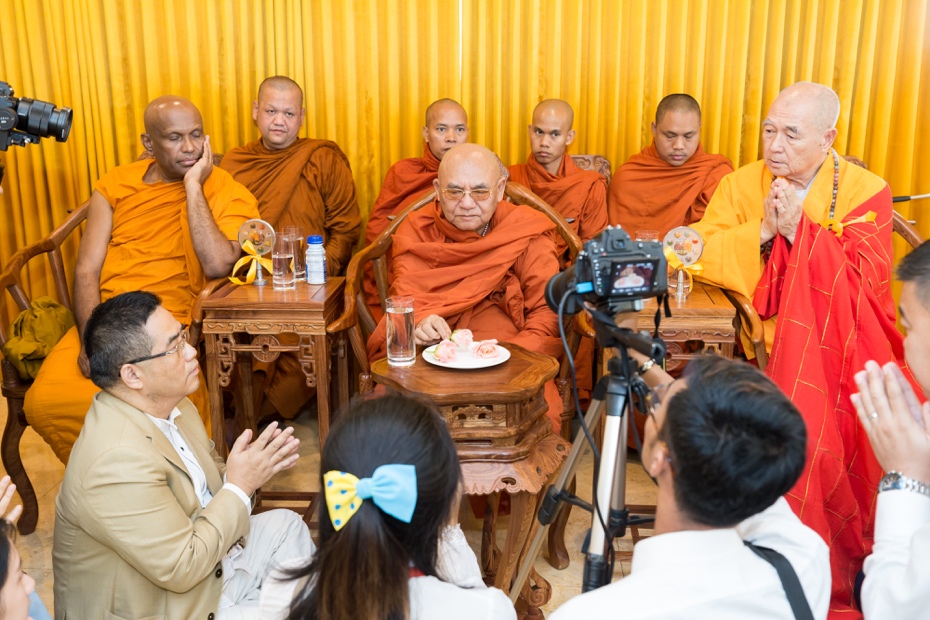 After becoming a monk, he went to Theintaung learning center in Taunggyi to further his study of Buddhist scripture under Venerable Chandadhika, Venerable Tejobhasa. After a period of time, he moved to Yangon for further studies under Venerable Sujana, the abbot of Pwesargyi monastery, Ven.Sagara and other well-known Venerable Sayadaws from Chaukhtatkyi and Shwegondaing learning centers.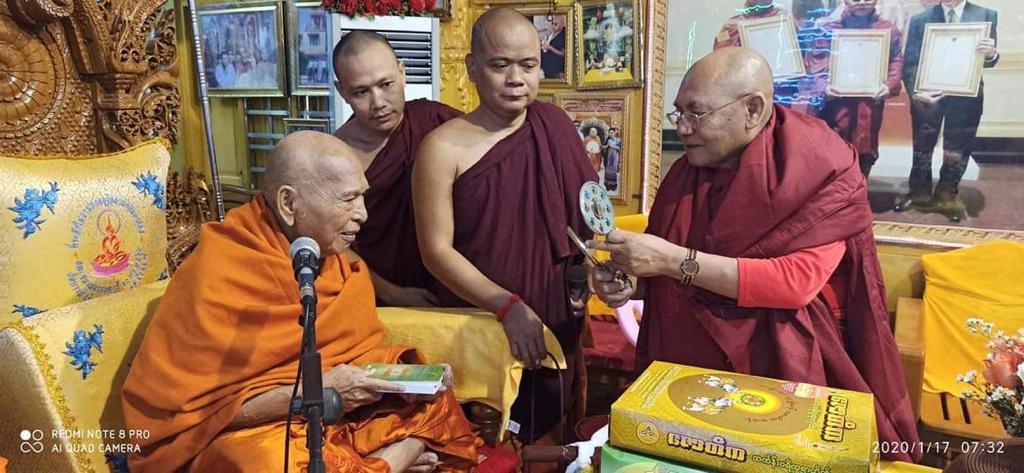 On 5th January, 1979 ( 1340 ME), Ven.Dhammasara, the high priest of Magginlannyun monastery from Parami Round about (3), South Okkalapa handed over his monastery to the late Sayadaw U Kittivara. The late Sayadaw U Kittivara later changed the name of the monastery into Theindaung Thaikthit temple. Since then, the late Sayadaw U Kittivara followed his uncle's footstep, Venerable Suriya who collected the relics of the Buddha and Buddha's disciples. The late Sayadaw U Kittivara went from place to place to collect the relics of the Buddha and his Disciples with the intention of preserving the relics and to enshrine in one place where everyone can pay homage to the relics. In 1987, the late Sayadaw established the Relic Musuem at his monastery for this purpose. The Relic Musuem become well-known not only to the locals but to foreigners to visit and pay homage to the Relics.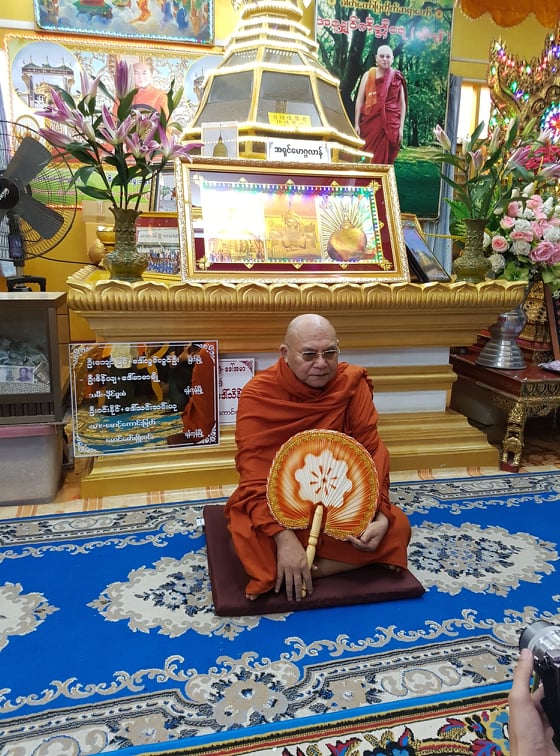 In year 2020, the late Sayadaw received "Aggamaha Saddhamajaotika Raja" given by Myanmar government for his great contribution in Buddhist Missionaries work within these 31 years and established the Relic Musuem for buddhist devottees around the world to come to respect the Buddha and Arahants relics. On 28th July, 2021 Sayadaw passed away peacefully.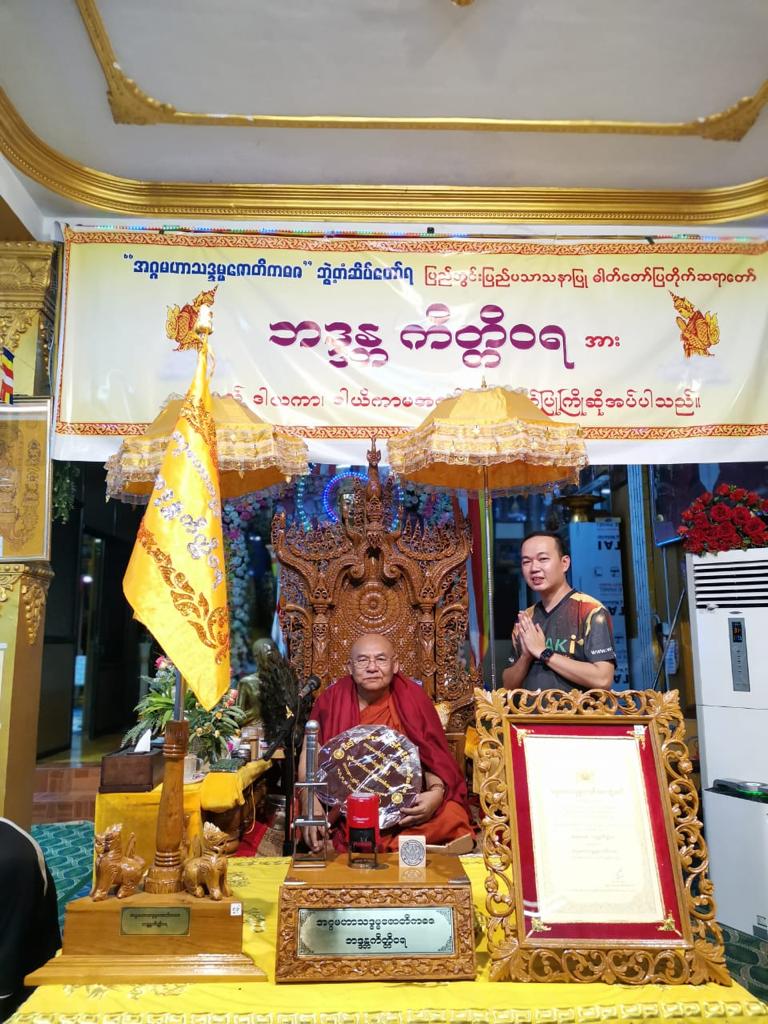 Today, we pay tribute to the late Sayadaw by offering foods, flowers, robes and water to the Sangha, as well as listening to the Dhamma and chanting. We would like to dedicate these merits to our late most respected Sayadaw U Kittivara. Although Sayadaw had passed away, his excellent behavior, concentration and wisdom will remain in our heart. Honor and physical body are different. His human body would decay once he died. But we will always remember him for his honorable deeds.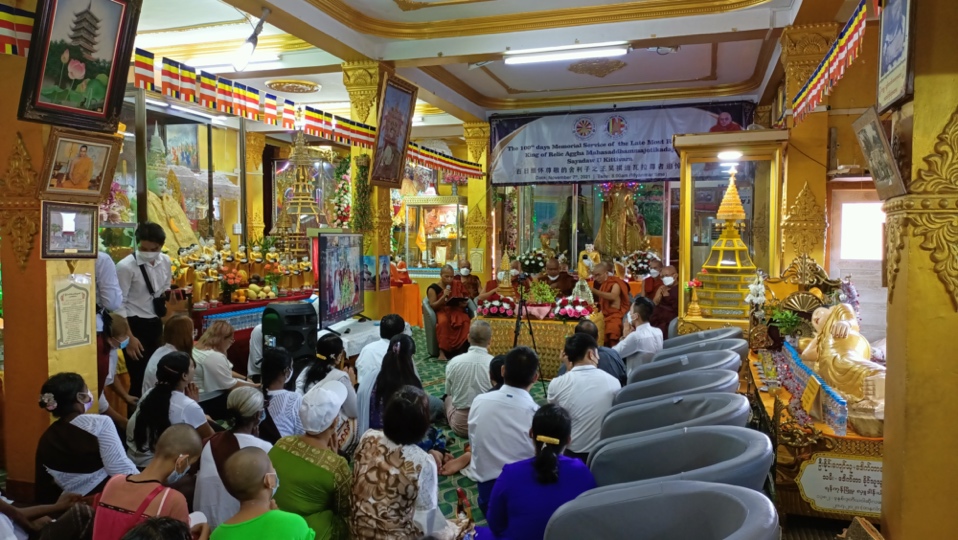 This 100th memorial service of the late Sayadaw was sponsored by Waki families from Malaysia. May Waki families and all the devotees from local and overseas be healthy, wealthy and be free from disease and be free from danger.